ASD Movie Night: "FIERCE LOVE…and Art"
June 17 – 1:00 pm – 3:30 pm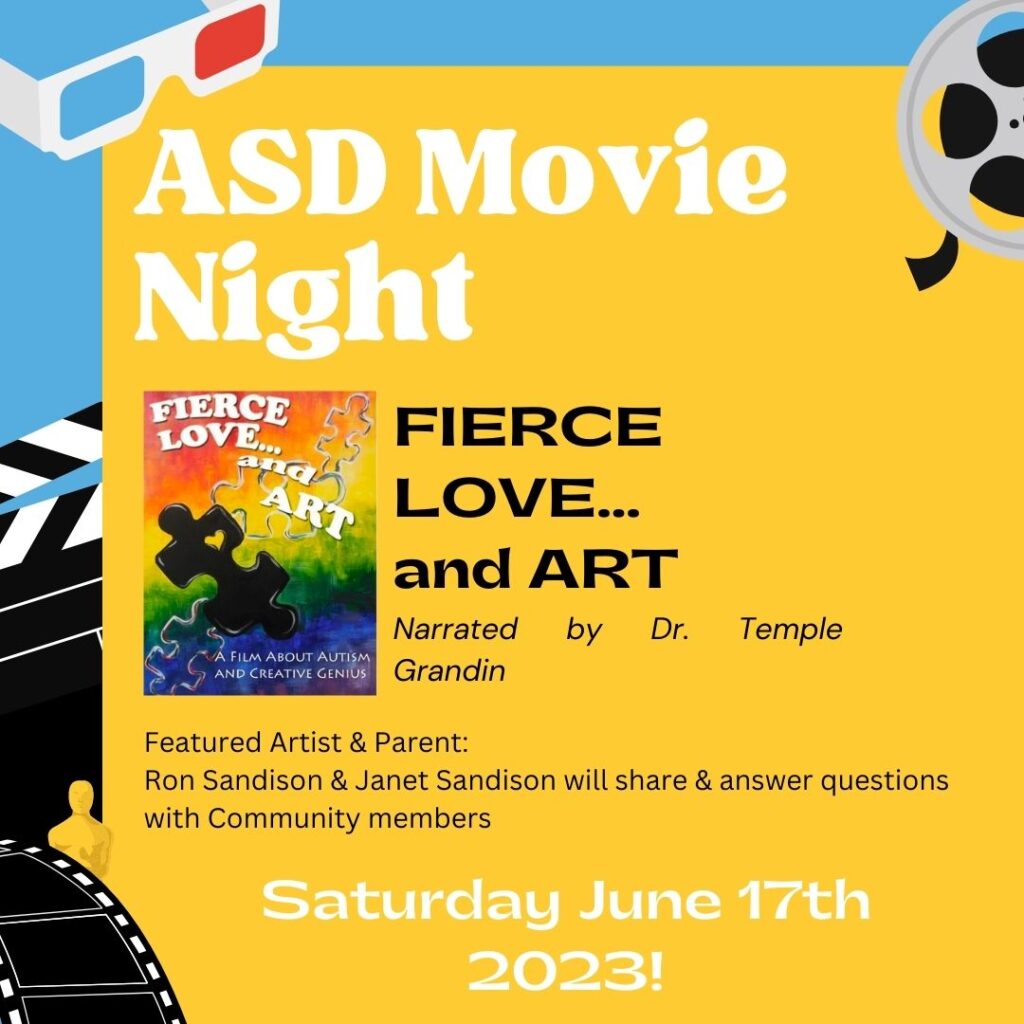 Come Enjoy a Movie Afternoon showing of "FIERCE LOVE…and Art"
A Documentary Film About Autism and Creative Genius. And the Fierce-Loving Parents Who Allow Genius
This film features 9 artists: These inspiring artist/musicians/poets featured are Ping Lin Yeak, a painter from Malaysia/Australia; Tony DeBlois, a savant musician from Boston; Grant Manier, a paper collage artist from Houston, TX; Richard Wawro, a painter from Scotland; Christophe Phillault, a hand painter of France; Kimberly Dixon, a non-verbal poet and painter from Round Rock, Texas; Erik Warren, a woodcarver from Kansas; Marshall Steward Ball, a non-verbal prodigy writer/profound thinker from Asheville, North Carolina; and Ron Sandison, writer, author and professor from Michigan.
Ron Sandison AND His mother, Janet who are both featured in this film will be speaking at this event, sharing their perspective, insights and answering questions
Watch the trailer here: https://www.youtube.com/watch?v=NmFDRWVlIZk
This event is great for parents, adults or children with ASD or anyone looking to broaden their understanding on ASD. Sensory room and CTRS staff will be available for those who need it
Popcorn & water provided!
Saturday June 17th, 2023, 1pm-3:30pm. Located at Therapeutic Concepts
"The film, FIERCE LOVE AND ART, is a powerful testament on how individuals on the autism spectrum and their families can improve their lives and how the world as a whole can benefit greatly from their brilliance, beauty, and persistence.Steve Edelson, Ph.D.Director, Autism Research Institute
San Diego, CA" Want more information on this film and it's featured artists?
http://www.texasautismsociety.org/wp-content/uploads/2018/03/FIERCE-LOVE-and-ART-INVITATION.pdf
or Fierce Love and art's official FB page: https://www.facebook.com/FierceLoveArt/