Certified & Licensed
Nationally & Board Certified Recreational Therapists Special Education Teacher with over 25 years experience.
Exceptional Quality
Implemented by therapists & professionals with degrees providing therapeutic services for children with disabilities
Adapted For All
All programming, special events, and individual therapy sessions are adapted for made accessible for each client.
Upcoming Events
Latest Updates
Catch up with what we've been doing!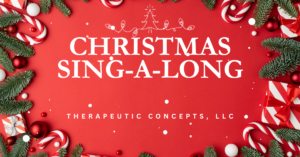 Check out the fun we are having in both our Music Therapy Group as well as our individual Music Therapy participants!
Continue Reading
Matthew's
Mighty Mission
Learn more about our non-profit partner, founded by the owner of Therapeutic Concepts.

Our mission is to empower all persons with disabilities by providing knowledge, resources, and improving connections to their families/communities through modified play, adapted toys, and innovative technology in a barrier-free environment.