AdaptedCompProg.


Mission
Therapeutic Concepts is offering a new Special Needs Computer Program! This Program is designed to enable children of all abilities to increase independence by engaging with and controlling activities/games with our adapted equipment. As a family, you can learn how to play and engage with your loved one while increasing their independence. With the specialized guidance of a Recreational Therapist, each child will receive an initial 45-60 minute play session assessing his/her specific functioning level. From there, your family can choose from our two different packages.
These programs focus on a range of skills from fine-motor, language, communication, direction-following to leisure/recreation and enjoyment. Depending on your loved one's abilities and needs, the therapist will design a specific program with engaging games your child can learn to control.
Adapted Equipment
Offering eye-gaze bars, an adapted mouse, adjustable monitors & desks and interactive tablet programs.
How it works: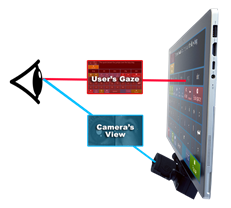 Eye Gaze Bar
"The camera picks up light reflections from your pupils and translates the movement of your eyes into mouse cursor movements. It takes only seconds to complete a one time calibration" -www.inclusive.co.uk › Articles
https://eyegaze.com/products/eyegaze-edge/
Benefits
Any child who does not communicate with words or hands would be able to control and engage with the computer, allowing him/her the freedom to express feelings and accomplish tasks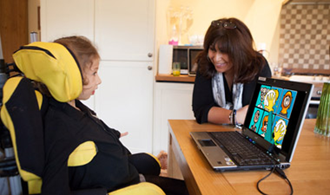 How It Works:
Interactive Tablet Program:
After a needs assessment is implemented to determine your child's specific functioning levels, your Recreational Therapist will design a program plan. This program plan may include activities & tools from the interactive tablet device. The specific area addressed (cognitive, social & recreational) and activities implemented are as unique as each child.

Benefits
Cognitive: direction following, color/number/shape recognition
Social: turning taking, spatial/self awareness
Physical: fine motor, hand-eye coordination
Emotional: sense of control over environment & self-esteem with accomplishment/self-efficacy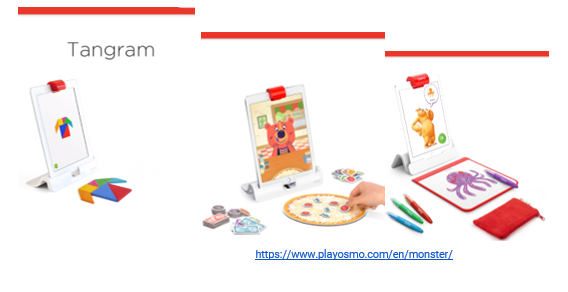 Getting Started & Pricing
To register and set up your child's individual needs assessment and first session, please call us Monday-Friday at 586-722-7524 or email us at marynagy@therapeuticconceptsllc-MI.com
First Month:
$75 per month:
One virtual initial assessment measuring functioning level
One therapist-implemented 45-60 minute educational session

educating on adaptive/non adaptive (no specialized computer aids) computer programs
educating parent/child to using interactive computer activities to address child's specific needs

Two Free Play sessions up to 60 minutes

Choice of using computer programs/adaptive tools

Choice of "Free in-clinic play sessions" (swings, toys, boards etc.)
$50 if your child is a previous/current client of Therapeutic Concepts and already received an initial assessment.
After First Month:
$50 per month:
2 Therapist-implemented 45-60min sessions using adaptive computer tools to address your child's goals
2 "Free-Play" sessions in-clinic for parent and child to use adaptive equipment or play equipment
$35 for any additional Therapist-implemented sessions per month.
Services do not transfer into next month, any cancellations can be rescheduled within that month.
OR $35 per Therapist-implemented session
After receiving a guided educational session with a Recreational Therapist, free play sessions allow a family member to apply the skills learned to engage their loved one and play in a failure-free environment. With access to all adapted equipment and programs a Recreational Therapist is available during every free-play session as needed. Please schedule ahead of time.
*For everyone's safety we only allow 1 client in-clinic at a time with a half-hour cleaning period between each session
Health & Safety Precautions
We understand how scary these times are, especially for our loved ones with disabilities. That's why Therapeutic Concepts is taking steps to protect every child and parent who would like to benefit from this adapted computer program. Please see the following precautions we are taking in light of Covid-19
Individual client sessions
Only one client with a family member in the clinic at a time with minimum staffing (2-3 therapists)
Cleaning
The clinic surfaces and adapted tools are sanitized/cleaned prior to and after each client visit. We schedule a minimum of 30 minutes before and after to accommodate this process
Masks
Due to current health suggestions, we ask that all members entering from the community wear a mask as all of our staff do as well
Temperature
With a non-touch thermometer, we monitor all staff and in-clinic visitors' temperatures upon entering